Vittoria nella 12 ore di Bathurst con Dalla Lana, Lauda e Lamy
La Ferrari 488 GT3 di Spirit of Race, guidata da Paul Dalla Lana, Mathias Lauda e Pedro Lamy ha vinto la classe Pro-Am della 12 ore di Bathurst 2019, a Mount Panorama, in Australia.
Il trio è stato protagonista di una performance da incorniciare, guadagnando 24 posizioni rispetto alla griglia di partenza. Al termine, la Ferrari di Spirit of Race ha chiuso con due giri di vantaggio nei confronti dei più vicini inseguitori (Hazelwood-Lago-Russell nell'Audi R8 del Matt Stone Racing's).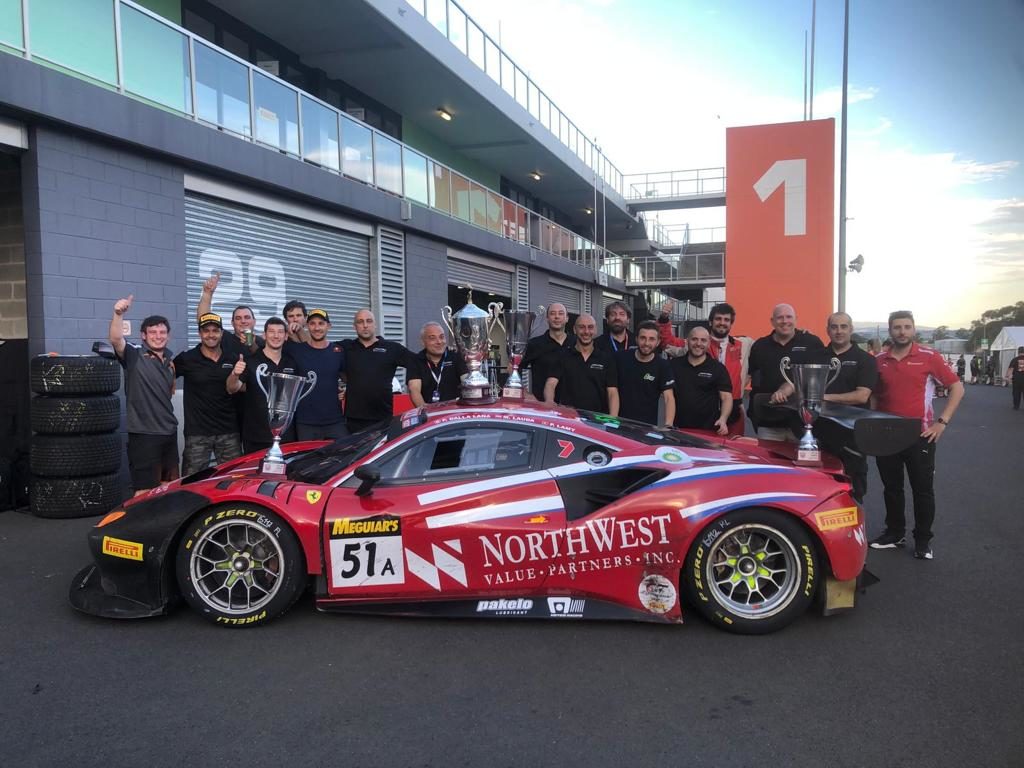 Victory in the Bathurst 12H with Dalla Lana, Lauda and Lamy
The Ferrari 488 GT3 of Spirit of Race, crewed by Paul Dalla Lana, Mathias Lauda and Pedro Lamy won the Pro-Am class in the 2019 edition of the Bathurst 12 Hours.
The trio put in a flawless performance, making up 24 positions on the qualifying session. The advantage of almost two laps over their nearest pursuers, Hazelwood-Lago-Russell in the Audi of Matt Stone Racing's, also says a lot about the quality of the performance of the Spirit of Race team.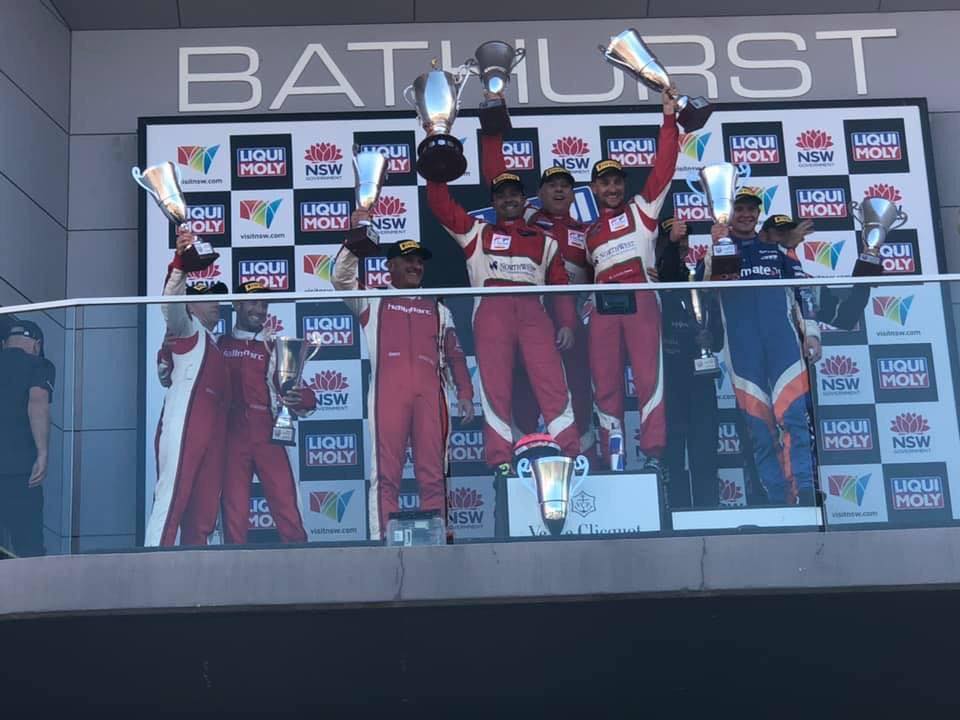 Spirit Of Race vince nella gara di apertura dell'Asia Le Mans Series 2018-2019
Pipo Derani, Côme Ledogar e Alexander West hanno chiuso in prima posizione assoluto il round inaugurale dell'Asian Le Mans Series 2018-2019. Il terzetto era al volate della Ligier JS P2 schierata da Spirit Of Race.
L'equipaggio di Spirit Of Race ha messo a segno una prestazione straordinaria nella 4 Ore di Shanghai: partiti in pole position, Derani-West-Ledogar hanno di fatto condotto la gara autorevole, tagliando la bandiera a scacchi davanti alla Ligier United Autosport guidata da Paul Di Resta e Phil Hanson. I due prototipi, tra l'altro, si sono leggermente toccati nel primo giro della gara.
Nella classe GT, la Ferrari 488 GT3 #51 – al volante il campione in carica del Wec, Alessandro Pier Guidi insieme a Francesco Piovanetti e Oswaldo Negri – ha concluso in seconda posizione.
Spirit Of Race took the victory in the opening race of the Asian Le Mans Series 2018-2019
Pipo Derani, Côme Ledogar and Alexander West took the first spot under the chequered flag in the opening race of the 2018-2019 Asian Le Mans Series at the wheel of the Spirit Of Race Ligier JS P2.
Starting from the pole position in the 4 Hours of Shanghai, the drivers lined up by Spirit Of Race LMP2 made an awesome perfomance gaining the first overall position ahead of United Autosports Ligier driven by Paul Di Resta and Phil Hanson. Both teams did it the hard way after they made light contact on the opening lap causing both to drop back down the order.
In GT class, the Spirit of Race Ferrari 488 GT3 #51 – at the wheel the FIA Wec reigning champion Alessandro Pier Guidi together with Francesco Piovanetti and Oswaldo Negri Jr. - finished the race in 2nd place.
GIANCARLO FISICHELLA AL VOLANTE DELLA FERRARI 488 DI SPIRIT OF RACE NELLA SUPERSEASON DEL FIA WEC
Giancarlo Fisichella, ex pilota di Formula 1 che ha corso 229 Gran Premi e che ha vinto con la Ferrari 458 di AF Corse due edizioni della 24 Ore di Le Mans (categoria GT), è il terzo e ultimo driver al volante della Ferrari 488 di Spirit Of Race impegnata nella Super Season del mondiale endurance (FIA WEC) 2018-2019. In lotta nella categoria LMGTE Am, Fisichella condivide la vettura– sponsorizzata VistaJet e Bombardier - con Thomas Flohr e Francesco Castellacci.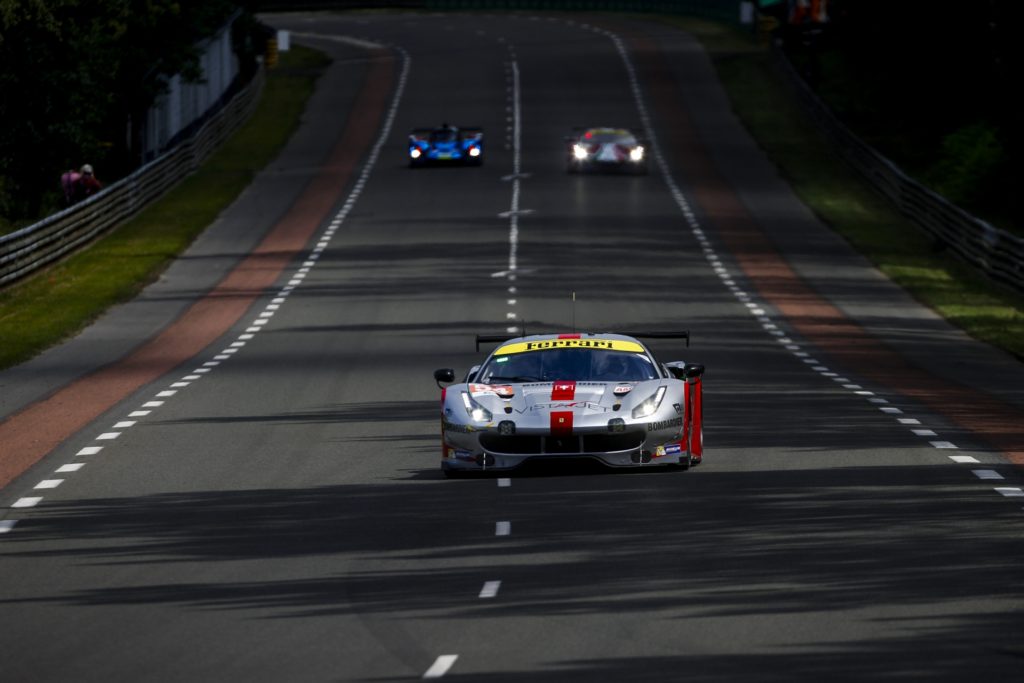 GIANCARLO FISICHELLA JOINS SPIRIT OF RACE'S FERRARI 488 GTE FOR THE FIA WEC SUPER SEASON
Giancarlo Fisichella, former Formula One driver with 229 Grand Prix contested and two-time class winner at the 24 Hours Le Mans with Ferrari (GT Class), is the third and final driver to join the AF Corse managed Spirit of Race team in the 2018/2019 FIA World Endurance Championship (WEC) Super Season. Fisichella joins current team-mates Thomas Flohr and Francesco Castellacci in the VistaJet and Bombardier sponsored Ferrari 488 GTE car, competing in the LMGTE-Am class.